This past Sunday was the grand opening of the new Chabad house of North Ranch, CA and a Hachnosas Safer Torah.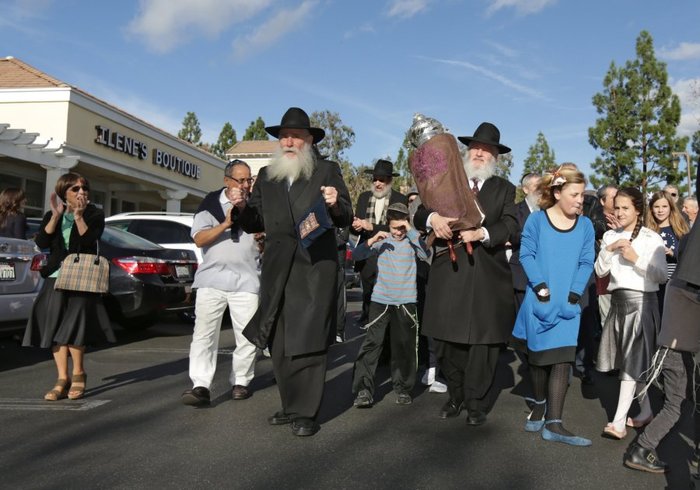 Ventura County Star – By Robyn Flans -Dec. 18, 2015
As music played, men sang and danced as they passed the new Torah — the most important Jewish teachings — from one to another in the parking lot in front of its new home, the brand new Chabad of North Ranch.
Sunday was a double celebration for the community: a Torah dedication and a grand opening of the new Chabad, more than two years in the works.
Before entering the new synagogue, Rabbi Shlomo Bistritzky thanked Ronnie and Karen Ressner for commissioning the scribe in Israel to hand write the Torah in memory of his parents, Leibel and Edah Bistritzky.
Rabbi Moshe Bryski, executive director of Chabad of Agoura Hills, told a poignant story to explain the importance of such new synagogues as he introduced Boruch Shlomo Cunin, the executive director of Chabad of California.
"Four years ago we had a grand opening for our headquarters in Agoura Hills for the Center of Jewish Life, and when Rabbi Cunin first arrived he stared at the building and he was taking it all in for that one very quiet moment, which is very unusual for Rabbi Cunin.
"In that moment he saw my father who had come from New York to be there for the grand opening. My father is a Holocaust survivor who lost his entire family in the Holocaust. Rabbi Cunin yelled out in Yiddish: 'Rabbi Bryski, this is the greatest revenge we can take against the Nazis.' To him it was a statement to my father of, 'Look how we have survived. We have grown, we have gotten stronger. They wanted to destroy us, but they couldn't.' The two embraced and started dancing with tremendous spirit, and with each circle of dance, they realized more and more how the Jewish people survived and will continue to survive."
Inside the building, Bistritzky explained that the group had outgrown their synagogue in Oak Park and they needed to expand.
"The way Chabad works is you build it and they will come," said Bistritzky. "We wanted to create a space people feel they can come to be helped and inspired."
Bistritzky promised the new building will fulfill the same needs as all Chabads.
"Every one of our Chabad centers is full of heart and soul," he said. "We invested a lot into the décor and feel, which we hope will inspire new families that have never had the opportunity yet to be touched by Chabad."
Bistritzy said he feels Chabad offers services that are friendly and nonjudgmental, without membership requirements.
"One of my favorite slogans about Chabad is, 'We're full of open hearts, open hands and open doors.' We want anybody without any prior experience to be able to come in and truly feel at home and be proud of their heritage, be able to come in for spiritual guidance or just a place to pray."
Yossi Bistritzky, the rabbi's 13-year-old son, said he watched the large space being put together and become the beautiful building.
"It's amazing, I don't think I've ever seen a sanctuary this beautiful," Yossi said, adding that stone brought in from Jerusalem was used in the sanctuary.
Shayna Charter agreed.
"It's very simple," Charter said. "It's spiritual without being flashy."
Charter moved from New York to Oak Park almost three years ago, and although she lives closer to the Oak Park synagogue, she was thrilled to celebrate the opening of the new North Ranch synagogue.
"It's a very special occasion," Charter said. "Rabbi Bistritzky and his wife Tovi are amazing people. They greet people with open arms."